Discussion Boards
YaBB is a leading free forum software package that rivals any professional message board out there. It provides a real-time chat and support system for your visitors. PHP/MySQL port of the popular forum software YaBB (Yet Another Bulletine Board).
[Back to Top]

Invision Power Board (abbreviated IPB or IP.Board) is an Internet forum software written in PHP and primarily using MySQL database. A popular and very customizable forum with a powerful administration area to control your board and members.
[Back to Top]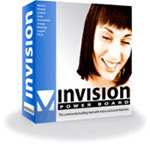 PhpBB is a high powered,widely-popular, fully scalable, and highly customizable Open Source bulletin board package. PhpBB has a user-friendly interface, simple and straightforward administration panel, and helpful FAQ. A widely-popular open-source bulletin-board package, works well, simple user interface and admin panel, clean look, scales well, and can be customized.Based on the powerful PHP server language and your choice of MySQL, MS-SQL, PostgreSQL or Access/ODBC database servers, phpBB is the ideal free community solution for all web sites.
[Back to Top]