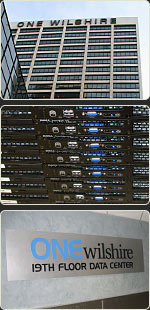 Experience, reliability, security, and customer support are the attributes most important to our customers. Our goal is to offer these qualities at the most competitive price point on the market.
The team at Renderhosting.net has experience from the beginning of the Internet, developing and integrating solutions for a range of customers, from Fortune 500 companies to fast-growing startups.
Our history and experience in the Internet industry has helped us build solid relationships with top data centers, bandwidth providers and developers. This valuable resource we pass directly to our customers.
Our data center is located in downtown Los Angeles, California, and provides us with a maximum amount of power, flexibility and security. The building is engineered for the highest levels of reliability and includes power backup service which is also used as an alternate power grid for the city of Los Angeles.

The facility is located in a major Internet exchange in close proximity to most other major exchanges. Renderhosting.net is provided with high-speed network connections to multiple Tier-1 international IP backbones.

Physical access control to our servers is provided by armed security guards, a single point of entry into the data center, electronic key card access, biometric scanners and 24/7 video surveillance.


What does all this mean? It means for at little as $6.95 per month you have access to the same resources and services as some the world's largest online companies.
You can always send feedback to
sales@renderhosting.net
.